This is the era to take a stand, but generations of African American Women have been standing up for our entire lifetimes.
Community Organized!  is a collection of five short plays written by friend and alum Jeanine T. Abraham, centering the unique experience of American Black Women and Girls who reside on the front lines of activism in our communities while leading the dominant culture with our style, resilience, humor and beauty while (the majority of us) are invisibly visible in America. Hope to see you on the 19th!
Click here for more info and tickets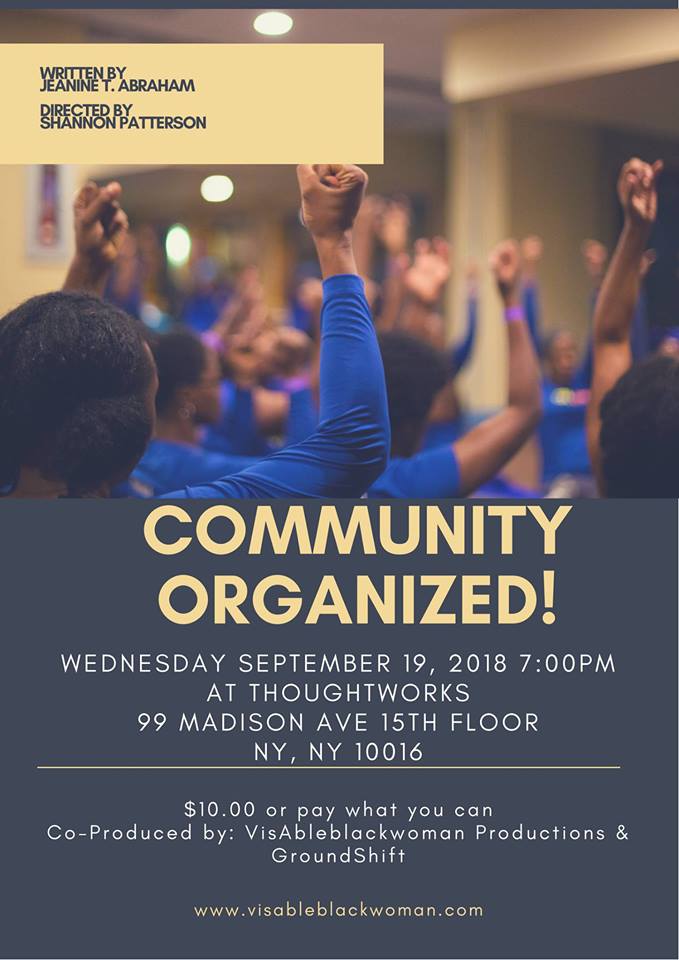 Writer, Producer, Actor – Jeanine T. Abraham was inspired to write and produce these plays during the 2016 election cycle and after the election results.
Five plays are:
Kiel's Lotion – Takes place at Equinox Gym Brooklyn HeightsLadies dressing room right before the Women's March 2017
And Then They Came For… – Takes place in the near future in front of the Donut Plant on Bergen & Flatbush Ave in Brooklyn
Lacefront – Takes place in 2015 at the NYC Traffic Violations Bureau in Brooklyn
Natural – Takes place in 2018 on line at the World of Curls Natural hair Festival in Prospect Park Brooklyn
Community Organized! – Takes place in 2022 in the Community room of First Baptist United Church in Bed Stuy Brooklyn
Written by Jeanine T. Abraham
Directed by Shannon Patterson
Co-Produced by VisAbleblackwoman Productions & GroundShift