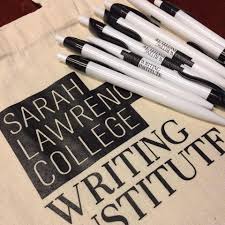 Excited to share that Mike Dressel and Kelly Jean Fitzsimmons are teaching a five-week workshop in collaborative creative nonfiction at the Writing Institute at Sarah Lawrence this fall: '
Tuesday, September 25, 2018 until Tuesday, October 23, 2018 from 10-12 PM.
Click here for registration details.  & Help us spread the news!
From Page to Stage: Writing Creative Nonfiction for Performance with Mike Dressel and Kelly Jean Fitzsimmons
Nothing informs your story like hearing someone else perform your story!
Compose a creative nonfiction story using the collaborative process created by the producers of the nonfiction reading series, No, YOU Tell It!
Whether developing a true-life tale for a venue like The Moth or RISK! or working to sharpen it for publication, our "page to stage" process allows writers to gain a new perspective on the story they want to tell by hearing their words read out loud by someone else, while also improving their own stage presence.
This five-week session takes you from brainstorming, through drafting, to a finished piece of creative nonfiction.
Session one features generative exercises such as "I Remember" and "Sensory Blitz" to brainstorm memorable moments and sharpen sensory details.
Sessions two and three feature group exercises with targeted feedback for each writer. We'll also explore revision strategies to find shape and structure, develop your "I-character," and raise the stakes.
Sessions four and five address pacing in performance, strengthening story beats, and rehearsing basic stage techniques to help embody your partner's story and give it a little 

oomph 

in the final reading.
By the end of this workshop, participants take an idea from a thematic suggestion all the way through to a polished draft, engage in useful feedback and revision techniques, and consider the importance of audience and delivery.
Click here for registration details! 
No, YOU Tell It! is a "switched-up" storytelling series dedicated to performing true-life tales with a twist: Each participant develops their own story on the page and then flip scripts with a partner to present each other's story on stage. We've found that this shared storytelling format creates a sense of trust and ownership, and blends the collaborative process of creative writing workshops with the intimacy and immediacy of theatrical performance.
Mike Dressel is a writer and educator. His work has appeared in publications such as Litbreak, The James Franco Review, Chelsea Station, and Vol. 1 Brooklyn, among others, as well as in the anthologies Best Gay Stories 2016 and Best Gay Stories 2017. He has been a judge for The Prose Bowl, a flash fiction reading series, and a panelist on the comedy news show Fight the Feed.

Kelly Jean Fitzsimmons is a writer, teacher, and storyteller. Her recent work has appeared in Hippocampus Magazine, Marie Claire, Black Fox Literary Magazine, Newtown Literary, and she is a 2017 Pushcart Prize Nominee. After earning her MFA in creative nonfiction from Fairleigh Dickinson University, she created No, YOU Tell It!, a switched-up storytelling series with a twist: Each NYTI participant develops their own story on the page and then flips scripts with a partner to present each other's story on stage.