Podcast: Play in new window | Download
In the second half of our '3 Strikes' show, Daniel Mahler and Jenn Wehrung  swap stories about a first love and many, many lives not content to stay in the past. Did you know that part of the fun at our lives shows is to ask the author a personal question before their partner performs their story? You will once you listen!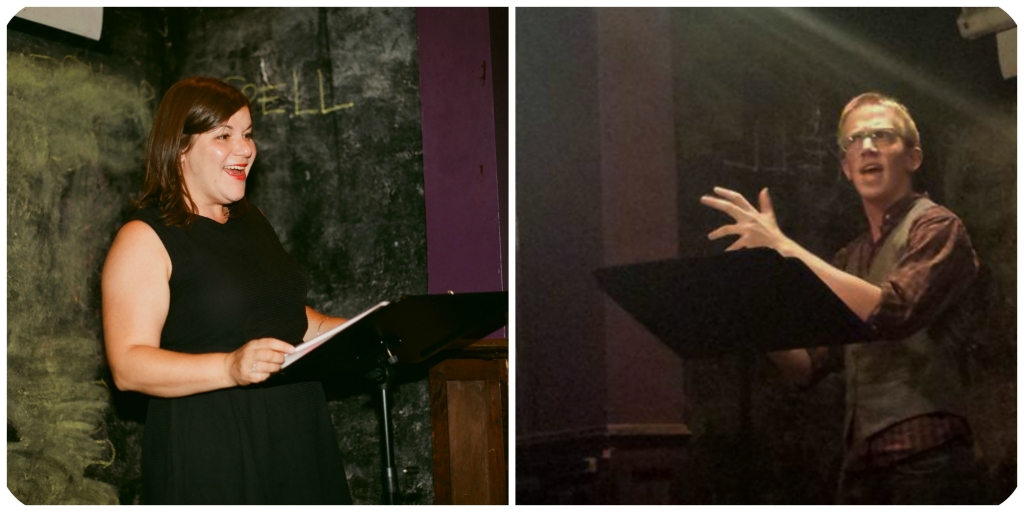 Photo credit: Gavin Starr Kendall 
Stories from our '3 Strikes' show at Jimmy's No. 43 on September 16th, 2015:
What to do with a Rusty Nail – written by Daniel Mahler & performed by Jenn Wehrung was directed by Erika Iverson.
Regressioning – written by Jenn Wehrung & performed by Daniel Mahler was directed by Mike Dressel.
Daniel Mahler is a Boston-area transplant living in Astoria, Queens. He is an actor, theater educator, playwright, and human ecologist, who is thrilled to be presenting in his first ever "No You Tell It" Workshop Performance! Daniel co-runs a nonprofit summer theater company in Bar Harbor, Maine, the Harborside Shakespeare Company. He is a proud alumnus of College of the Atlantic (also in Bar Harbor,) and Emerson, in Boston. He is also very excited to be writing and producing an original webseries titled "Façades," which chronicles the stories of gender conforming and gender nonconforming artists in the city.
Jenn Wehrung is a stand-up comic, actor, singer, writer, teacher, dog lover and dancer. OK, that last one is a stretch but… She produces and hosts Laugh It Up, Astoria! a monthly comedy show at QED: A Place To Show & Tell and won the countywide storytelling competition in 6th Grade.
Subscribe with iTunes
Subscribe with PocketCast
Subscribe with RSS