See you this Thursday at the Forest Hills Q-Boro Literary Crawl. Come visit us at our venue: Reef (108-02 72nd Avenue). Sad news, it's our last live show until fall. GREAT NEWS, it's a whopper!
10 NYTI alums are coming back to switch-up their story with a new partner. Meet our storytellers below and click here to get your tickets.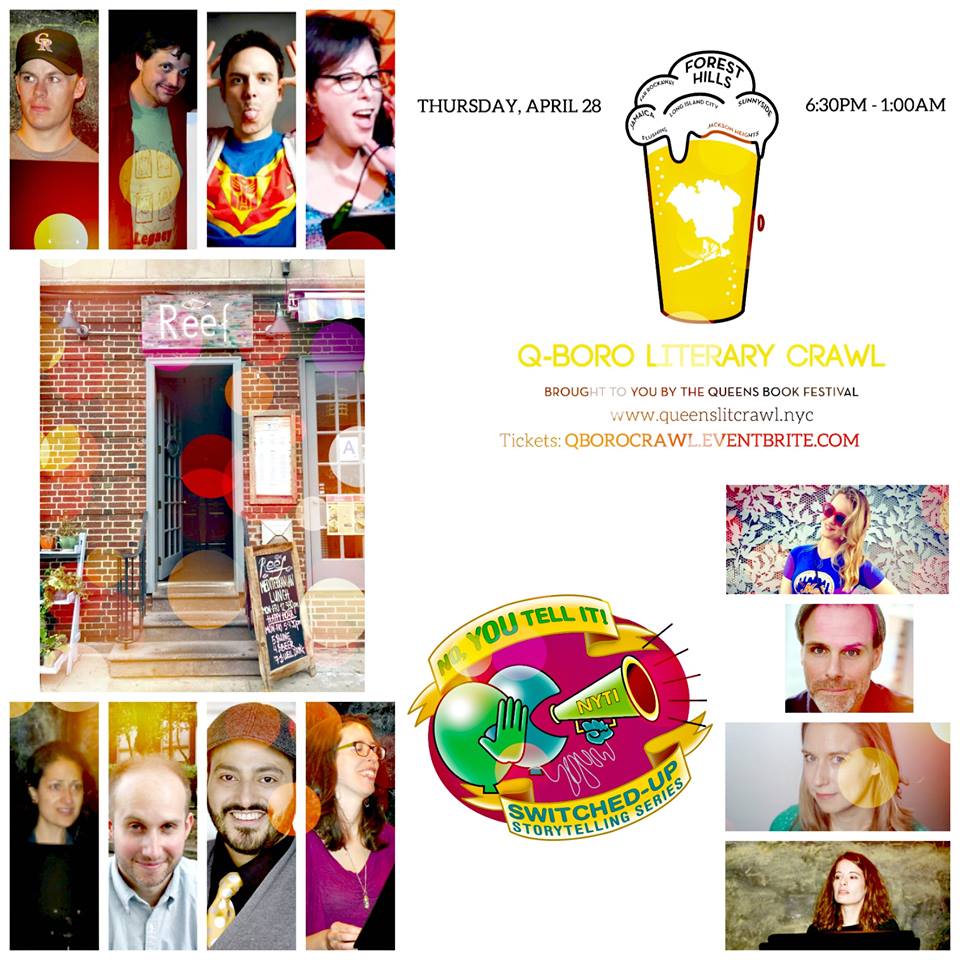 Leg 1: 7-8pm
James Ford swaps stories w/ Alex Gray
Sydney Beveridge swaps w/ Bard Hovenga
Leg 2: 8:15-9:15pm
Molly Touger swaps stories w/ Jessica Cannon
Laura Forer swaps w/ Mark Woollett
Leg 3: 9:30-10:30
Ryan Holmes swaps stories w/ Kahle Alford
Leg 1 Bios
Alexandra Gray is a Brooklyn-based writer and performer whose original work has been staged at St. Ann's Warehouse, LaMama E.T.C., One Arm Red, HERE Arts Center, IRT Theater, among other venues. She spent 10 years as a founding member of the multi-media slapstick ensemble Six Characters and three with sketch trio Booby Hatch. Her writing has been published in the inaugural issue of 'Girl Crush Zine', as well as numerous online publications
James Ford is a performer, writer, and designer based in NYC. He recently travelled across the country with the EveryHere Logistics Night Market, creating immersive art in the back of box trucks. Other recent appearances include The Rakes Die, Biter (Everytime I Turn Around), The Dreary Coast, Speakeasy Dollhouse, Wilde Nights, and Novacation. He was a regular on the sci-fi show Pioneer One and appears frequently in commercials. Learn more at ejimford.com
Sydney Beveridge has interviewed a judo Olympian at a grappling session, played a cruel waitress in a radio drama, and channeled Cher to explain census data. She communicates demographics, software, and stories for SocialExplorer.com. Working for the Corporation for Independent Media and independently, she has produced stories for BBC Radio, WNYC, SiriusXM, Third Coast International Audio Festival, and Public Radio Exchange. She is also assisting with the development of a stage play inspired by outsider artist Henry Darger. As a standup comic, she participated in the She Devil Comedy Festival and co-hosts Free Mic Fridays at QED Astoria.
Bard Hovenga is a special education teacher and writer from Colorado Springs. His work has appeared in Newtown Literary. He currently lives in Sunnyside, Queens, with his fiancée, Monica, and their two dogs, Killian and Riisy-girl.
Leg 2 Bios
Laura Forer would like to thank her parents for putting her through journalism school and is grateful for this one night since graduation that she's been able to use those writing skills. She would also like to thank her fourth grade teacher for casting her as a little pig in the school play in order to prepare her for tonight's performance. And lastly, she would like to thank Oren for leaving the house tonight and Charlie for depriving her of just enough sleep to keep her mind sharp.
Known as "Wild Buffalo" during his childhood as a member of Indian Guides, Mark Woollett has acted and directed professionally in more than 50 productions, including 21 of Shakespeare's 37 plays. Recently, he played both Jesus and Stephen Hawking in Deborah Zoe Laufer's End Days. For nearly ten years, he was in residence at Shakespeare & Company in the Berkshires working as a teacher, producer and administrator as well as acting in seventeen productions. More than anything, he adores his wife Candace and enjoys reading to her every night before bed.
Jessica Cannon is a New York City based actress and voiceover artist whose voice can be heard in national television commercials and radio spots for major brands such as Twizzlers, ALL, Schick, Beggin' Strips, Gerber, Coffee Mate, Clear Shampoo, Smirnoff Ice, Nesquik, and many others. Her work also includes voicing promos, cartoons and video games. If you're young enough, you may remember her from your potty training days as the host of Potty Power, the number two best-selling potty-training DVD on Amazon (no pun intended, Elmo beat us to the number one spot).
Molly Touger is a Bostonian turned Brooklynite who has, over the course of her career, worked as a journalist, barista, publicist, instructional designer, and busboy. She recently returned from a year serving as communications manager and kayak guide for a nonprofit language school in Mexico's Zona Maya. Among her favorite things about that job were apprising visitors of the fact that the Maya aren't dead.
Leg 3 Bios
Kahle Alford is an Associate Prose Editor for The Literary Review. She has an MFA in Creative Writing from Fairleigh Dickinson and studied at Tisch's Experimental Theatre Wing while earning her BFA in Acting from NYU. She can be found writing poetry somewhere between Brooklyn and Nashville with her basset hound.
Ryan Holmes hosts the popular entertainment podcast BlazinRy Radio. NYC theatre credits include SLAM: A Graffiti Musical at New York Theatre Barn, Peace Warriors at Fordham – Lincoln Center, Blocked: A Play About One Man at Manhattan Repertory Theatre, and the award-winning cabarets Hot Mess in Manhattan and The Rescignos, both at The Duplex. Visit blazinryradio.com.
Note: Morgan Pielli and Nelson Lugo couldn't join us for this Lit-Crawl. However, you can listen to Morgan's story "Midget" in Episode 9 of our podcast. Nelson's story "Crazy Sad" is featured in Episode 16.